Strides to Success story
Halloween 2023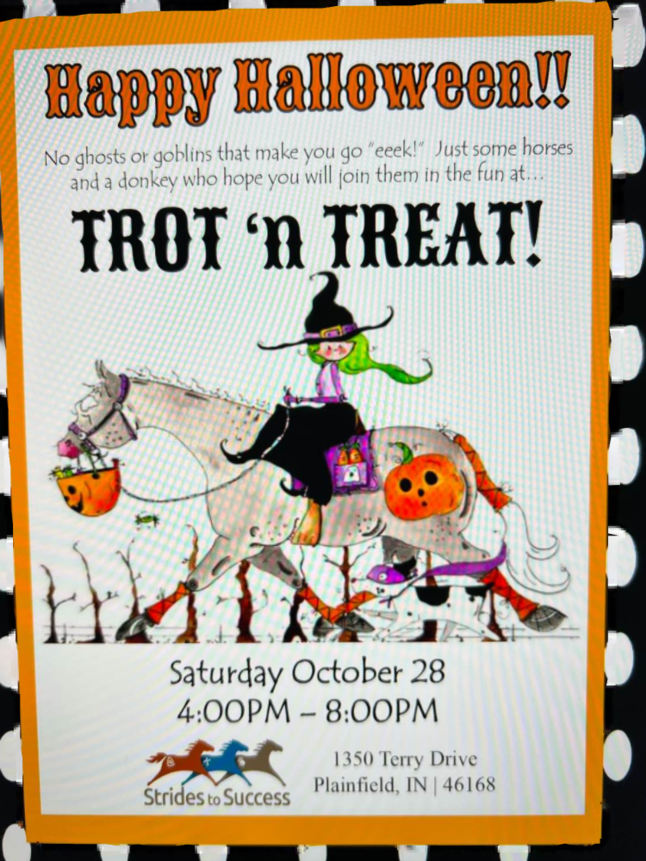 Christmas 2022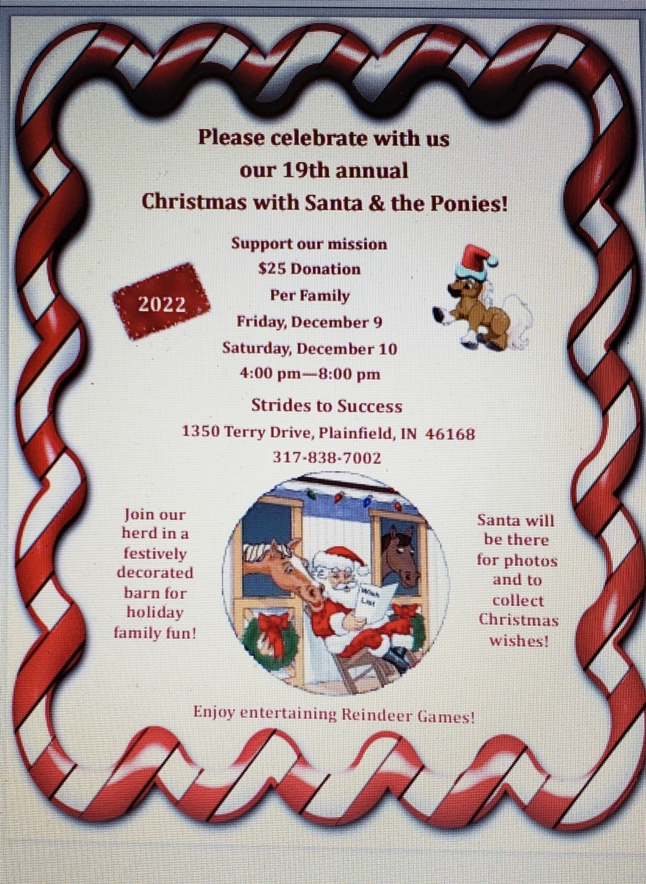 2022 - Happy Halloween from Strides - Come join us for Trot N Treat !!! Horses and staff will be dressed up in their costumes and ready to pass out candy !!! We can't wait to see you there. October 30th from 5p-8p. All wrapped candy donations should be at the barn by October 27th. Thanks for all your help !!!!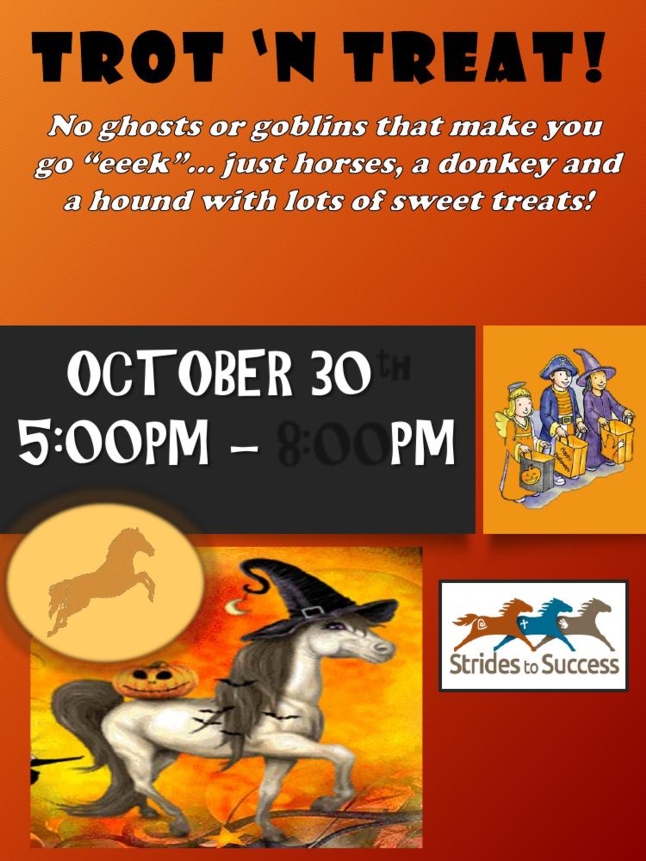 2021 Merry Christmas to the class of 1968 from Strides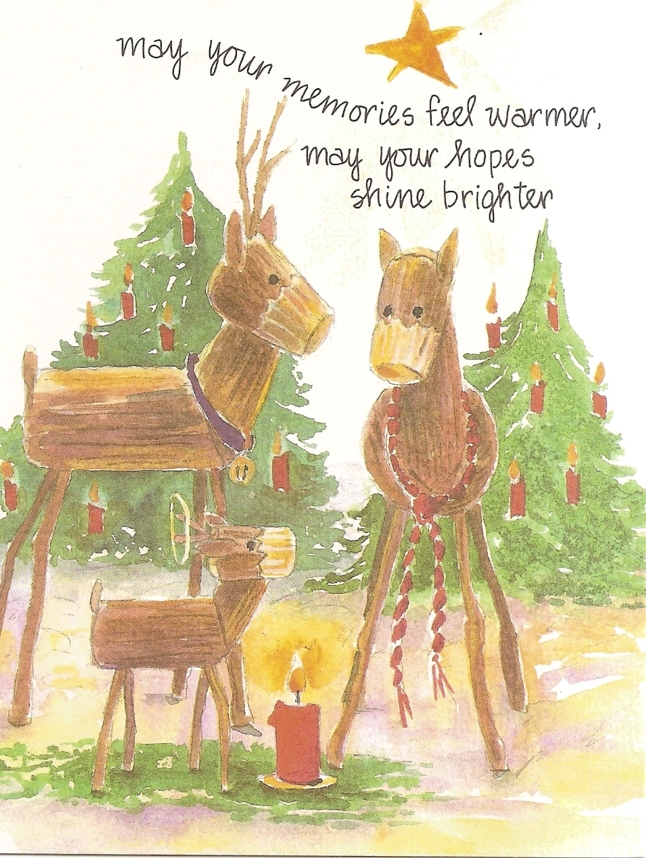 and may the love of Christmas linger throughout the new year.....
Christmas 2021...a wonderful way to celebrate and support a much needed mission.
Recently a new student-led club at PHS called Bringing Change to Mind, organized a fundraiser to help Strides to Success. The club's purpose is offering peer support to students dealing with mental health issues and their main focus right now is to remove the stigma associated with mental illness. The students chose Strides because of the valuable community resource Strides has been to students, families, veterans and adults who desperately are struggling with mental health issues.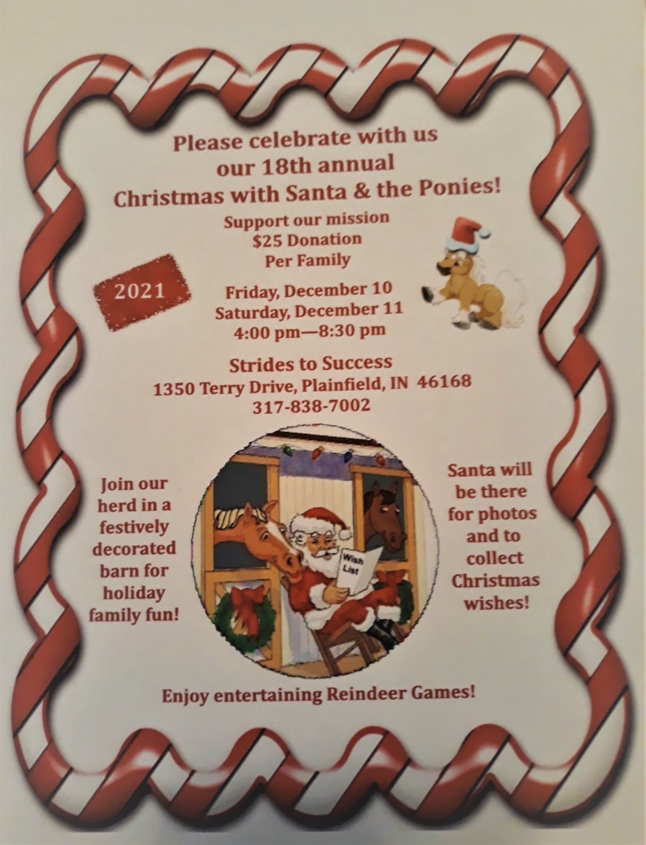 Happy Halloween 2021 - If you can donate candy, please bring to the Barn by October 28th. In order to be safe, the candy must be individually wrapped. See you October 30th from 5PM - 8PM.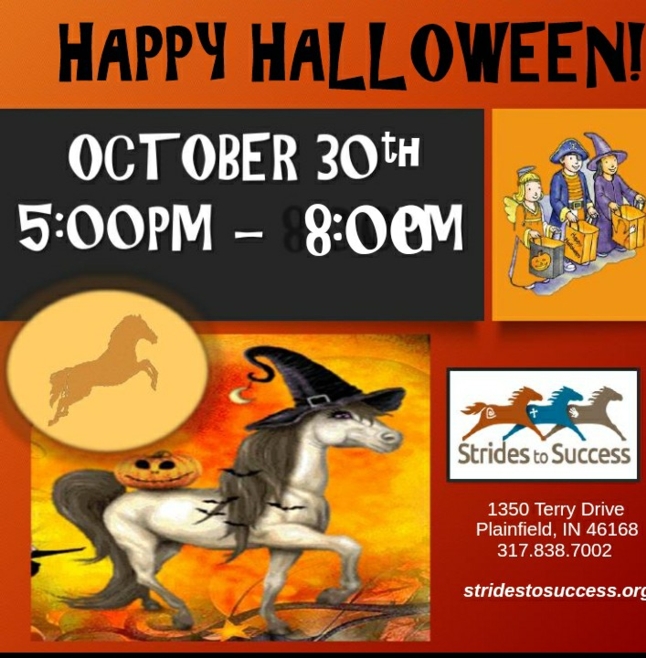 Strides to Success Christmas with the Ponies CANCELLED!
Dear family, friends, social media followers and supporters…due to increased Covid-19 numbers throughout Indiana and Hendricks county it has been decided to cancel the 17th Annual Strides to Success Christmas with the Ponies event and fundraiser on December 11th and 12th out of an abundance of caution. The decision to cancel the event was not taken lightly and we are heartbroken to deliver this news. We have responsibilities not only to you but also to our board of directors, staff, volunteers and our herd and we take our responsibilities seriously. The team at Strides are leaders in the global Equine Assisted Learning industry and here in our community. It is our duty to follow the standards currently set for safety and well-being. We know you look forward to this fun event each year and making memories with your family and friends. Santa Claus has been informed that our event has been cancelled, and while he is disappointed to not see you in person, he is excited to receive your Christmas list letters and deliver presents to you on Christmas Eve!
Christmas With The Ponies 2020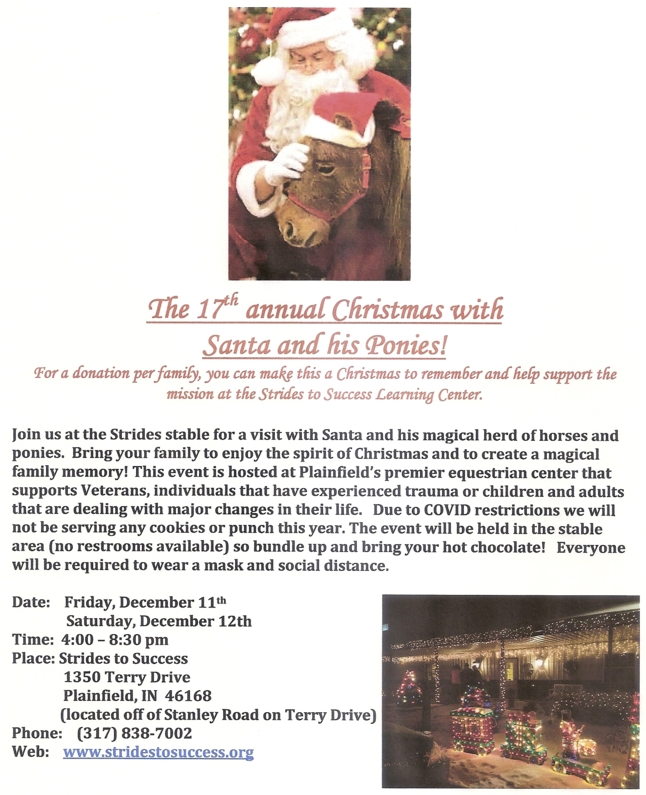 Halloween 2020
Please join us for Trot N' Treat this Halloween! We are now accepting donations of candy (preferably the bags of wrapped candy, please). The bags of candy can be dropped off at 1350 Terry Dr. in Plainfield.
**This will be a socially distanced event. It will be held out in the barn with everything sanitized frequently. We will be pre-packaging candy into small bundles to keep the spread of germs down**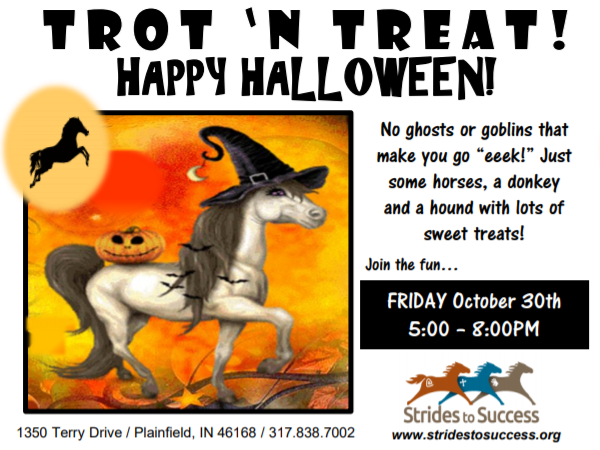 December 10, 2019
Strides is wishing you the simple joys of a life blessed with peace, freedom and friendship. Have a bright and Merry Christmas.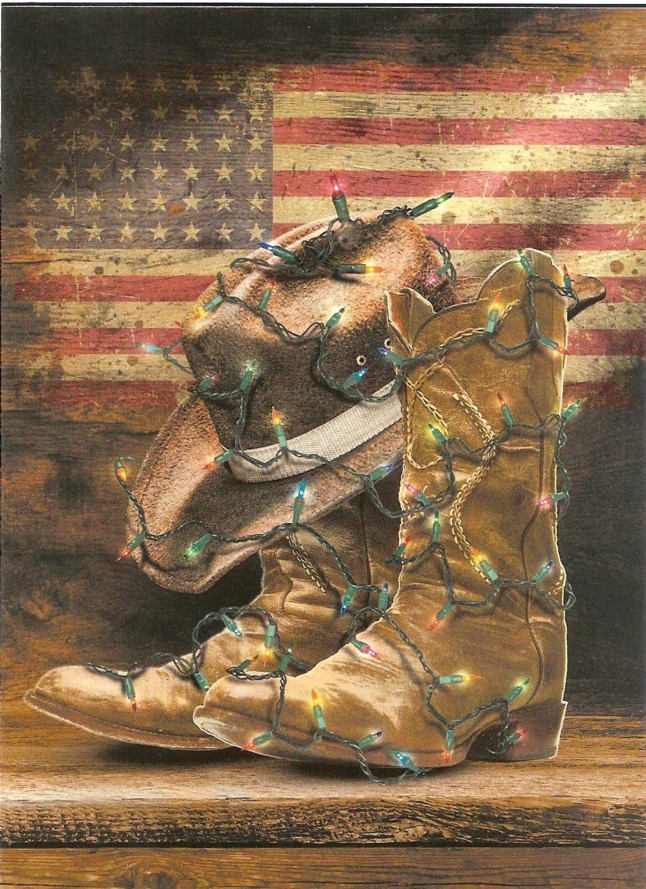 November 25, 2019
February 1, 2019
STRIDES TO SUCCESS
Posted by Christy Heitger-Ewing | Jan 25, 2019 | Avon, Plainfield | 0 |
LOCAL ORGANIZATION USES EQUINE THERAPY TO HELP PEOPLE OVERCOME TRAUMA & LEARN VALUABLE LIFE SKILLS
Writer / Christy Heitger-Ewing
Photography Provided
For years Debbie Anderson had a vision of one day using animals to assist in therapy that they might provide learning opportunities to strengthen and develop character in both youth and adults. When her in-laws, who had owned a farm for three generations, asked if she and her husband, John, would continue maintaining the farm, their wishes paired nicely with Debbie's vision. In June 2004, the couple opened Strides to Success, a 501(c)3 nonprofit organization that combines a research-based learning model with metaphoric experiences that encourage personal growth, development and healing.
"A lot of times when people have been hurt by life, whether that's due to divorce, the death of a loved one or some other trauma, they find it difficult to open up in traditional talk therapy," Debbie says. "Telling your story to a horse is a lot easier than telling it to a human because people are usually the cause of the hurt."
Strides to Success is a 10,000 sq. ft. state-of-the-art facility that has classrooms, therapy offices, a heated indoor arena, an outdoor arena, a horse playground and plenty of pasture. Strides employs several therapists, all of whom specialize in something different. One is well trained in ADHD and attachment disorders. Another is an art therapist. A third specializes in college-aged youth.
Thirteen horses live on the farm — all with different personalities.
"Some are pushy, some are sweet. Some make friends easily and others don't. Some trust freely and others don't," Debbie says. "We use all those different metaphors to help clients learn life skills they need in order to solve their problems."
People often assume that equine therapy means patients mount their horses and chat during the ride. Not so. For the most part, clients participate in "ground work" wherein patients learn steps on how to build a healthy relationship with a horse — how to be comfortable, how to be a leader, how to be kind yet fair and how to be satisfied with small accomplishments rather than setting ridiculously high expectations.
"It's not about riding a horse," Debbie says. "It's about entering into a relationship with a horse — learning how to speak their language, how to be clear and consistent. Through those processes, clients make discoveries about their own voice, inner strength and talents."
When one arrives at Strides to Success, they are greeted by the resident office manager Bear, a soft and snuggly Goldendoodle.
"Bear puts people at ease. In fact, he goes straight to those he senses are the most anxious," says Debbie, who shares the time a girl came in sobbing and unwilling to enter her therapist's office. Bear walked over to her, put his head on her knee and patiently stared up at her weepy eyes. With Bear by her side, she felt safe to engage in therapy.
Many of the clients at Strides to Success are children who struggle with depression or anxiety. But they also see empty nesters who are grappling with a major life shift.
"They don't know what to do moving forward. This therapy helps them find direction," Debbie says. "Working through changes and problem-solving are things horses can teach us."
Another big demographic they serve is veterans. Debbie recalls a veteran who came to Strides after going to talk therapy at the VA for quite some time with little success. Homeless and hopeless, she decided it was best she end her life. She had a gun. She had a plan. But then one day a picture on a brochure caught her eye. It was of a horse, and the pamphlet described the Strides to Success program.
"I decided to come out and see the horses," she says. "Turns out, it saved my life."
Now healed, this woman has a home and a job in Hendricks County.
During the initial assessment process, clients are asked, "If you could wave a magic wand and change one thing about yourself, what would it be?"
Some say they'd like to find their courage or their energy. Others say they'd like to learn to trust people again. The bottom line is that they want to move past whatever trauma occurred. That's why at Strides they work on life skills such as courage, intention, honesty, confidence and balance.
"For children, we demonstrate respect by using animals," Debbie says.
That demonstration may happen by way of a game. For instance, on the farm lives a miniature donkey named Spark Plug. The staff brings him out, along with a chest full of clothes, masks, hats and boas and invite the children to dress him up.
"He's a congenial type of guy, but he has his opinion about things and has to approve of what he'll wear," Debbie says. "If the kids get all excited and rush towards him, he's going to react and move away from them. That shows them, 'Oh, I have to think about someone else's feelings. I can't just do what I want when I want.'"
The takeaway is that compromise is an integral part of making friends. Because what happens when your friends don't want to do what you want to do? Do you have a temper tantrum? Do you force them to play your way? Do you shut down? Or do you take their feelings into consideration and compromise?
"We all have our own agendas," Debbie says. "Sometimes we don't pay enough attention to how they affect those around us."
The group work promotes healthy decision making and problem-solving, getting kids to think outside the box.
"We help them see that if they're doing the same thing with the same outcome, it may be wise to change that pattern of behavior," says Debbie, noting that the local school system conducted a survey that found two distressing things. One, children were feeling stressed as early as third grade. And two, students avoided trying new things because they were afraid of failure.

According to Debbie, a big part of overcoming these issues is immersing oneself in nature.
"You know that feeling of tranquility you have when you stare up in the clouds as they're floating by? Or the peace you feel when you hear the wind rustling in the trees?" Debbie says. "Those connectors are getting further away from us due to the fast-paced world we live in. Mix in technology and all the expectations that are put upon us and it's just too much."
Some children who come to Strides have spent very little time outdoors, but when they do, they thrive.
"It's like they're finally in a space where their nature matches their nurture," Debbie adds.
Even the "city kids" quickly adapt to the sights, sounds and smells of the farm. This is because nature enables us all to regenerate and reconnect. Animals provide the same therapeutic antidote.
Debbie shares the story of a young girl who came to Strides three years ago and has been so impacted by the program that she has plans to study equine therapy in college.
"Having kids work through trauma and then want to give back in the same way they were healed is pretty special," Debbie says.
Strides to Success is located at 1350 Terry Drive in Plainfield. For more information, visitstridestosuccess.org or email info@stridestosuccess.org.
December 19, 2019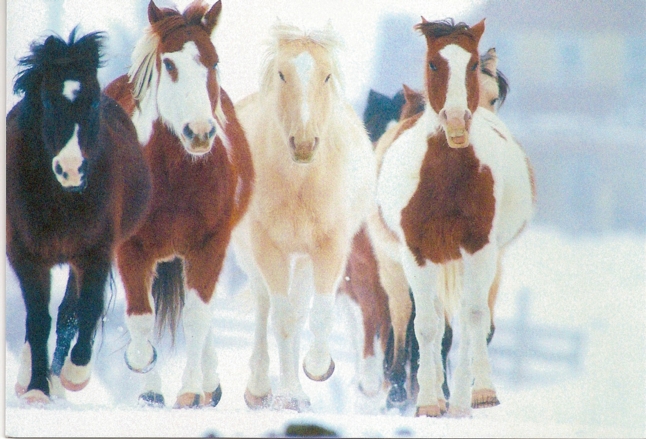 The ponies and Sparkplug wanted to wish you a wonderful holiday season with friends by your side and joy in your heart. They really enjoyed meeting you in September at the reunion.
We have been busy this year at Strides. Our programs have grown along with some new opportunities. As a result, we have seen lives transformed in amazing ways. Our assignments have included 67 child victims of sex trafficking, 62 children that have suffered abuse or trauma, 42 Veterans with PTSD, 17 women that have been sexually assaulted, facilitated 72 groups and offered 7 training workshops with the help of many dedicated volunteers. We hosted our first annual Trot n Treat at Halloween and you helped make our Christmas with the Ponies a wonderful success for over 700 visitors with the cookies you donated.
Beyond the numbers, we have been blessed in ways that defy description. Since we don't advertise our services, we believe that all that comes to Strides is sent from God himself.
Christmas blessings to you and your families,
Debbie and John
December 2, 2018
Thanks to all bakers who can donate dozens of cookies to the barn by Wednesday, December 5th.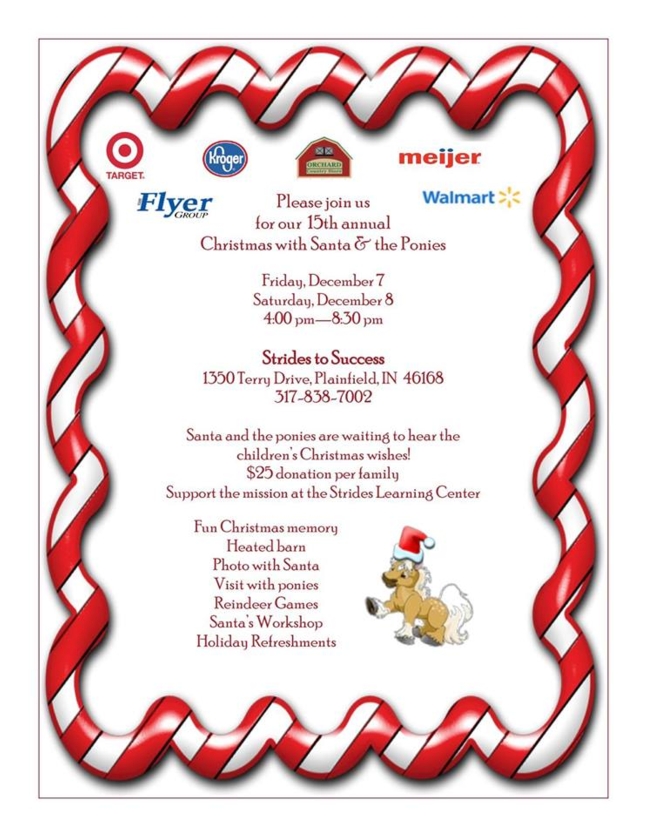 October 20, 2018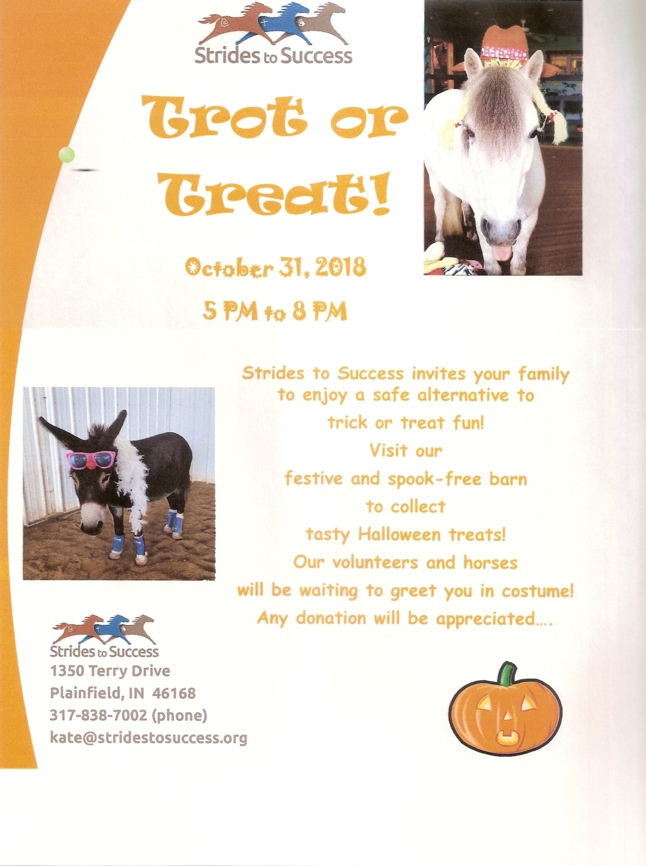 October 5, 2018
After our 50th reunion expenses were paid, the class of 1968 made a $3000 donation to Strides. All 71 classmates including teachers, who registered for the reunion are donors. Also, included with these donations are personal donations by our DJ, Brittany Hope who donated her fees to both Strides/SAF: our photographer, Lisa Stewart who donated her fees to Strides: Stanley Walton who donated his raffle winnings to be split between Strides/SAF: Debbie McCollum Asher (couldn't attend due to illness) and split her registration fee between Strides/SAF: Raymond Veith (couldn't attend) and split his registration fee between Strides/SAF: Gregg Rogers (Cindy's registration fee): the personal gift from the class to Carol Wendt who split the money between Strides/SAF: John Hall's personal donation. Ann Dohogne Jaimet who had registered for the reunion and had asked Carol to use her registration fee to help Strides/SAF in the event she couldn't attend the reunion. We were blessed to be hosted by Debbie and John Anderson. Strides provided us with the perfect place to meet old friends, make new friends out of old acquaintances and have a chance to relive, relax and remember. Thanks to them for making our 50th reunion special.
July 28, 2018 Horse Whisperers was a feature in the Hendricks County Flyer. Check out at www.flyergroup.com. (article below but photos can only be seen through link)

TOPICALFEATURED
Horse whisperers
Strides to Success uses equine therapy to teach life lessons
BY JAMES VAUGHN james.vaughn@flyergroup.com Jul 27, 2018 Updated Jul 27, 2018  
     
PLAINFIELD — Memphis Beatty has a hard time putting into words what Rocky has done for him.

A year ago, the 16-year-old Clayton teenager lacked social skills and struggled with anger 
management. It was hard for him to talk to most people, and he often lashed out at 
the ones he did talk to.

Then he met Rocky, a horse at Strides to Success, an equine therapy farm in Plainfield.

The non-profit's mission is to provide individualized therapeutic experiences that promote 
learning opportunities and strengthen lives. It was brought to the 34-acre family 
farm in 2006.

Memphis is just one of many success stories.

Strides helps people of all ages, from children who are bullied to veterans 
suffering from PTSD. Instead of offering specific programs, they are open to
 whatever their clients need.

"There are a lot of things the community brings to us that we just figure out a
way to utilize our farm environment and our horses to help them find the 
answers to their challenges," said Debbie Anderson, who runs the farm.

For Memphis, it was all about building a relationship with Rocky.

"When I first came here, I had never even ridden a horse and I definitely didn't know how to
tie a rope halter or anything like that," Memphis said Thursday as he petted 
Rocky's neck. "But now that I'm really learning how to build a relationship 
with these horses, I am able to do something as simple as tying the halter, 
but I can also get them to jump over beams and stuff.

"It's not just about finding myself in the horse. It's about building an 
authentic relationship with the horse and in doing so, I have had a 
transformation."

He said he is more confident in himself and doesn't get angry anymore.

It's common to see that kind of transformation in people after they work with
the horses for awhile, Anderson said.

They use a method known as natural horsemanship which, in essence, means allowing
the horse to make its own decisions while encouraging it to do certain things, 
like jump a beam or kick a ball. The goal is for neither the human nor the horse 
to become impatient or frustrated.

"It's kind of like horse whispering," Anderson said. "The horses have their 
own language and it's based on building trust and confidence, and deciding 
between the horse and the person who is going to be in charge."

Trust, honesty and patience are some of the biggest life lessons they teach 
at the farm. And it works both ways — the clients and horses learn from 
one another.

"It's about all of those wonderful rich components that make life doable 
and more importantly pleasant," she said.

Strides to Success helps about 60 people a week. The ranch offer Kindness, 
Integrity and Discipline (KID) coaching; leadership development training; 
Veterans Equine Transition Services (VETS); Spirit Rising; Pink Ponies for 
women who struggle with low self-esteem; mental health counseling; and even 
horse yoga. They are the only farm in the Midwest to offer mounted yoga.

All 13 horses were donated to the farm, which operates as a 501(c)3 non-profit,
meaning they don't charge for most of their services.

"People call up here all the time because they'd like to donate their horses 
to a forever home, especially doing this kind of good work," Anderson said. 
"But unfortunately, we can't take them all."

Several mental health therapists work out of the farm's offices. Their 
private practices are based there. Strides itself just has two full-time 
staff members, including Anderson.

Sometimes it is more about the farm's atmosphere than it is the horses. 
The animals aren't always needed for healing, she said. Some experience it 
just coming up the driveway.

"You come through a residential neighborhood and then boom; all of a sudden 
you're at a farm. So a lot of people, when they come through the front gates, 
find peace immediately. Others want to connect with nature, something we don't 
do very often these days," she said. "Even though we're right in the middle of 
this city, people find peace here."

Memphis did.

His father, Gary Beatty, watches in amazement each week at how gentle Memphis 
is with Rocky.

"It's unbelievable," Gary said. "It has changed his whole attitude."

He had some reservations about it at first, he said, but he has really taken 
to the horses.


Memphis is more patient at home too, Gary said, and he thinks everything 
through instead of instantly getting angry about things that may be out of 
his control.

The best part for Memphis and his father is that there is no time stamp on 
when he has to be done with the therapy, which was recommended to them by a 
traditional counselor.

"It's up to him, really," Gary said. "Whenever he feels like he's gotten all 
he can out of it."

It may be a while. Memphis just started a youth training internship at the farm. 
He hopes to help people the way the trainers and horses have helped him.

They kept him going, and because of that he found healing, he said.

"A lot of thought went into, you know, how can I top what I did in last week's 
session? How can I keep improving? And it really is all about just building 
that relationship," Memphis said. "Because of the horses, I am a better person."

James Vaughn writes for the Hendricks County Flyer. 
Reach him at james.vaughn@flyergroup.com. Follow him on Twitter 
at @JamesRLVaughn.

Strides to Success

1350 Terry Drive

Plainfield, IN 46168

317-838-7002

www.stridestosuccess.org
January 2018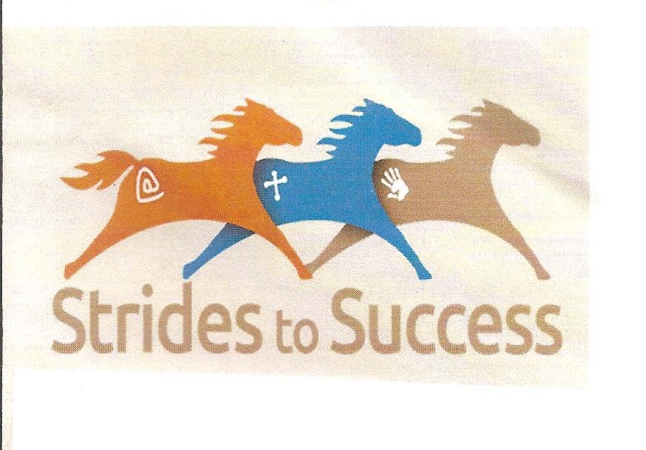 Our 50th reunion site is the home of Strides to Success which is owned and managed by Debbie and John Anderson. Although not a banquet facility, they have graciously offered it to us for our September 29th gala. Their most generous offer to use their barn and arena, at no charge, cannot go unnoticed. Therefore, we will be donating a portion of our $50/person ticket cost to the Strides mission. We can't thank them enough for hosting our evening and providing us the chance to reconnect with classmates across the years and miles.
Below is a little more about the Strides story…..
The Strides to Success mission is to provide unique equine experiences that promote learning opportunities which strengthen and develop lives. Strides combines a research based learning model with metaphoric experiences that encourage personal growth and development in both adults and youth.
Throughout 2017, they offered programs at the highest standard and have grown while embracing new opportunities. As a result, they have seen lives transformed in amazing ways. Over the first nine months of 2017, they had served 64 child victims of sex trafficking, 52 children that have suffered abuse or trauma, 82 veterans with PTSD, 17 women that have been sexually assaulted, facilitated 72 groups and offered 7 training workshops with the help of many dedicated volunteers. They continue to find ways to offer peace to those who cannot find it otherwise.
Their well-maintained facility, a healthy herd of horses, well-trained and skilled staff, and in many cases financial support to help those who are unable to manage the full cost of their services is supported through donations. Every gift they receive is used to care for their resident horses, expand their programming and support those who fall below the ability to afford the full cost of something that can and will transform their lives.
Please visit their website at www.stridestosuccess.org. Strides to Success is located at 1350 Terry Drive Plainfield, IN 46168, 317-838-7002.
Also, classmates have asked if there was an opportunity to donate outside of the reunion ticket. For anyone who feels touched to do so, you can make a check out to Strides to Success and send it c/o of Debbie Anderson at the address above. Please note PHS '68 on the memo line. I know they will be thankful for any and all donations they receive. Please do not include any additional donation with your reunion registration as the processing fees would diminish your actual donation.
We are planning September 29th to be an evening of fun, games, music, memories and sparkle for you and your guest. We look forward to seeing you there. The reunion registration will be open soon.