Plainfield

High School




Class Of 1968
ANNOUNCEMENTS
SAVE THE DATE - Symbolic Sound, a mix of two Plainfield High School 1960s garage bands, will be playing at the Heartland Crossing Golf Links clubhouse again this December. I know this is early, but I wanted to let all our friends know about this play date. We will be playing from 7-10pm on Friday night, December 2 and wish to see all our friends come out for an evening of fun and dancing to the sounds of the 1960s and 1970s. We feature tunes from the Beatles, Byrds, Beach Boys, Eagles, Zombies, Rolling Stones and much much more. So, make it a date and come out to listen to some of our new tunes. We'd love to see you all again this year.

Symbolic Sound includes Tim Hayden (PHS '70), Scott Wilcox (PHS '70), Ray Veith (PHS '68), Tom Johnson (PHS '68), Jim Pierson (PHS '70), Allan Knoll (PHS '68) and Tom Dick (PHS '67).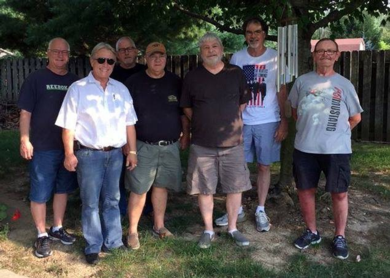 Robert Humphress' update is below. You can send comments to Robert by accessing his classmate profile and clicking the link for Robert's questions and answers.
It's been a real long time since I've been on this site....thanks for the birthday wishes, I moved to Pensacola about 2 years ago, live with my partner Brenda Roys.... She found me on FB about 4 1/2 years ago...awwww the great social media, ya gotta love it.... We dated in 1977 when we were in the Air Force stationed at Norton in San Bernardino.. She was a electrician on the C-141 Starlifter and I was a Loadmaster.. I stayed at Norton for 15 years, while she transferred to Hawaii, Okinawa, Oklahoma and Delaware and we lost track of each other. Then a few years ago she made contact with me, I came down for a weekend...ended up here for 6 weeks LOL...I was hauling ass down here a lot from the St Louis area a lot before I moved in ( well worth the trips) ..She didn't want me to give up everything in Illinois, I said Babe not a problem time to get outta of the snow!!!! I had to wait a year LOL....I'm retired, I'm the pool boy, house cleaner upper, laundry room attendant and cook..I really enjoy it . She still works for a contractor for the US Navy.... I was diagnosed with Prostrate cancer last year at this time, due to Agent Orange from Vietnam, they got it all in November 2015, and so far I'm good to go.... Would have it done earlier, but already had plans for Hawaii for 2 weeks of beach time...which we had a great time...👍🍺
Happy 4th of July !!!! Hoping your holiday weekend is filled with fun, fireworks, family, frankfurters and freedom. No matter if you are traveling or at home, enjoy a little cake in celebration of the 240th birthday of the USA.
Happy Father's Day to the men of the class of 1968. As we celebrate and remember the men in our lives whether they be our Father, Grandfather, Great grandfather, Son, Uncle, Brother, Nephew or 2nd Father's, we are thankful for your strength and guidance. May your day be a special celebration, of making more memories and also remembering those men in your lives who have been and are your role models.
Loretta Burgess Thompson has some news to share....."We are so excited to welcome our 2nd great grand baby! Vincent Uriah Payne was born yesterday in Houston, TX. God is so good." Congratulations to Loretta and her family. More babies to love.
Happy Mother's Day to all the women of the class of 1968. As we celebrate all the Mom's, Grandmother's, Great Grandmother's , Sisters, Aunts, 2nd Mothers and female friends from the class of 1968, we wish you a great big group hug and a day to remember, rejoice and relax.. Hope your day is special, just like you !!!!!
Our own Gay Pilcher Younce is on the Plainfield Community Schools Legacy Foundation. Trivia Night is one of their annual fund raisers with the funds raised going back to students at all grade levels as well as two grant cycles each school year for teachers. It would be great to have tables of 1968 grads at this event on April 9, 2016 at 7:00PM at The Palms !!! Please contact Gay at 317-696-9947 or yschooldays@aol.com for details and to sign up. What do you get for $25/person, - *Lots of Fun and Laughs *Free Pizza *Cash Bar and a great opportunity to support the mission of PCSLF.
Merry Christmas and Happy New Year to you and your families. May the miracle of Christmas fill your hearts and homes with love. Although the following is not a Christmas song, I can't help but think the words are so appropriate during the times in which we live....
"Let peace begin with me, let this be the moment now. With ev'ry step I take, let this be my solemn vow; To take each moment and live each moment in peace eternally. Let there be peace on earth and let it begin with me." Peace to all of you !!!!!!
The Symbolic Sound is coming back for an encore performance. That is right, on December 11th, they are booked at the Heartland Crossing Golf Links clubhouse for a FREE concert from 7p - 10p. So get out your Santa sneakers and join the band for an evening of dancing, fun, friends and Holiday cheer.
On October 2nd we'll be dancing the night away or at least until 10p at the Heartland Crossing Golf Links clubhouse in Camby. Not sure if we'll be doing the whip and the nae nae but I'm sure we'll keep the dancing floor crowded. I've heard from about 30 classmates that are definitely coming. So far, those traveling the farthest are Roland who is flying in from the East coast and Marsha Haworth who is driving up from southern Indiana.
The clubhouse is about 4 miles East of 67 (Kentucky Ave) on Heartland Blvd. Heartland Blvd is about 6 miles south of 465 on 67. There is a stop light and a huge sign for Heartland Crossing Shoppes at the Heartland Blvd intersection (which is in between Menards and Meijers). Continue on Heartland Blvd and you will run into the clubhouse. If you use GPS, it took me the back roads which was a lovely drive but might be a little confusing at night. For those coming from Plainfield, the quickest route is by taking the Ameriplex Pkway to 67 and then south on 67 to Heartland Blvd.
How about an unofficial 47 1/2 year reunion for the class of 1968 ??? On Friday night, October 2, 2015 our garage band, Symbolic Sound, will be playing at the Heartland Crossing Golf Links in Camby. So put on your dancing shoes and grab a lawn chair so you can enjoy the band and other PHS graduates. There will be grill sandwiches and beverages available for purchase. Please, NO COOLERS. The band will be playing from 7 - 10 (rain or shine). All PHS classes are invited so come early to get a seat and mark your spot on the dance floor. Let's have the class of 1968 win the unofficial contest for the class who has the most grads there or the class who has the grad that has travelled the farthest. Heartland Crossing Golf Links is located at 6701 E Heartland Blvd, Camby, IN 46113. The clubhouse number is 317-630-1785. The Symbolic Sound band includes Tim Hayden, Scott Wilcox, Raymond Veith, Tom Johnson, Jim Pierson, Allan Knoll and Tom Dick.
Happy 4th of July !!!! Freedom, flags, fireworks, family and friends are just a few of the reasons to celebrate this weekend. Hope yours is special !!!!
Happy Father's Day 2015 !!! Being a great role model deserves a special thanks and great wishes for every Father, Grandfather, Great Grandfather, Uncle, Brother and Son in the class of 1968. May your Father's Day be special and may you enjoy your day with those you love, those who love you and with special memories of your Dad.
Patriotism and picnics !!!! On this Memorial Day weekend, let us count our blessings and remember those who have served and are serving in the military to protect our country and our freedom. Thanks to all !!!! Safe travels for those who are visiting with family and friends. May your gatherings be filled with happiness, hot dogs and good health.
Happy Mother's Day 2015 !!! Special thoughts and good wishes go out to every Mother, Grandmother, Great Grandmother, Aunt, Sister and Daughter in the Class of 1968. May this Mother's Day bring you joy, happiness and beautiful moments to share or memories of your Mom.
Let's think summer !!! Come and visit the Indianapolis Boat, Sport and Travel Show from February 20th - March 1st at the Indiana State Fairgrounds. Eileen Leonard of Sailboats, Inc will be hosting their booth in the Champions Building. Enjoy the show !!!!
Grandbaby congratulations !!!!
Both Michele Jones Boling and Linda Hayden Shockley became first time Grandmothers in November and December of 2014. Their lives just became a lot busier and more special with a new baby to love.
Happy New Year 2015 - Does it even seem possible that it is 2015?? And that we are turning 65??
We hope this greeting finds you healthy, happy and making lists of resolutions for the new year. Congratulations to Bob Cushman who welcomed a new grandson in December.
Below is a letter I received from Justine Thompson, LCSW at Plainfield High School. The donations made by our classmates in memory of Charlie Nelson were delivered to the school and matched by John Anderson through the Anderson Family Fund with the Hendricks County Community Foundation. I thought you would enjoy reading her letter and know how we helped the students in need.
To the class of 1968,
As the year comes to a close and I review the many blessings that have come along, I want to thank the class of 1968 as well as all others who joined in with their prosperous donations to Plainfield High School. I will give you some examples of how the money has been benefiting our Plainfield students and families in need.
After verifying financial need I have spent some of the funds in the following ways:
Four cap and gowns for upcoming graduates.
Assisted two siblings with their DECA state trips. The DECA program paid half and I paid half with these funds. Their mother has terminal cancer and is unable to contribute to the family income.
Met a father at the grocery store and gave him time to buy $100.00 worth of groceries while I waited and paid for them. The family is struggling and had no resources to buy food.
I purchased a large quantity of shampoo, body wash, and other necessary products for a teen and family in need.
PE uniform for a few students.
Sports physical for a young lady.
German Club membership fee for a student in need.
Mental health assessment for a student in crisis.
Payment of tuition for dual credit course for students that do not have the financial resources to pay the $75.00 per course.
Clothing for a teen needing many items.
As you can see the needs are out there and fortunately we have been able to identify the students that are in need. We continue to watch for the needs and help wherever we can.
Thank you for helping me help others. The students and parents are so appreciative of it.
Justine Thompson, LCSW
Plainfield Student Assistance Counselor
Also, your team of website Administrators has increased. Thanks to Rachel Maxwell Johnson and Karleen Frakes Cole for joining the team. We promise to keep you up to date on happenings in and around our class. All we ask is that you keep enjoying the website with your posts and any photos that you choose to add.
May 2015 bring you sunshine, new adventures and all the love your heart can hold !!!!!
Carol, Rachel and Karleen
December 2014 - It's beginning to look and feel a lot like Christmas....
We know some of you have already started your Christmas shopping, decorating and checking those lists. Linda Anderson Boughner and her husband Ron will continue their transformation into Santa and Mrs. Claus much to the delight of everyone around. Check out her profile for a great photo of this wonderful couple.
Also, Dee Bell Becker was thrilled to see our classmate, Martin Hughey, at her concert in San Rafael last week. We wish they had a photo to post.
If there was ringing in your ears today, that is because you were all being talked about by Justine Thompson at Plainfield High School who coordinates the Student Assistance Fund that you have generously supported in memory of Charlie Nelson. Our donation continues to grow and the giving of our class reflects the wonderful, giving hearts of our class of 1968. Group hugs for everyone !!!!
Safe travels wherever your sleighs may take you this Holiday Season.
Thanksgiving blessings to each of you and your families !!!
Because of your generosity, our class donation continues to grow as we will be making a donation of $2760 to the Student Assistance Fund at Plainfield High School which is to be matched by John Anderson, through the Hendricks County Community Foundation. The school is so very thankful for the generosity of our class and has identified those students and their families who are in need of our support.
November 1, 2014
October was an emotional month for our class as we experienced the passing of both Jim Swift and Charlie Nelson. Too soon, too young with so much to give. We will miss them. Thankfully, we had some good news with the birth of Dave Petty's first grandchild.
May this season of change bring you an opportunity to rake leaves in the great outdoors, a fireplace to warm your chilled hands, a mug of cider to enjoy and memories to rekindle.
September 30, 2014
Hello friends of the 1968 PHS graduating class.
After your delivery of another generous donation to the PHS Student Assistance Fund, I wanted to take a moment to thank you and your classmates.
We are approaching completion of the first quarter of this school year and already we have assisted many students with this fund. I would like to share some examples: Partial payment of drivers education training; Payment of a sports physical; Family athletic pass; Tuition for dual credit courses; PE uniforms; German club memebership fees; Small portion of rent for a family living in one of the local hotels.
It is helpful to know this fund is thriving and available for the needs of our growing low income population. There are also families that simply have temporary hardships and need assistance until they are back on their feet.
Thanks so much for making this possible.
Justine Thompson, LCSW
Plainfield Student Assistance Counselor
September 20 and 21st, 2014
It is hard to believe that a year has passed since we all gathered for our 45th PHS reunion. We couldn't let this date pass without remembering what a special weekend it was for clasmates to come together in the spirit of renewing old friendships and making new friends out of old acquaintances. For those who entertained us, we thank you again and again. For the teachers who took their time to attend our reunion, we thank you. For all the donations to Plainfield High School from everyone, we thank you. For all the classmates who traveled both near and far to make the weekend special, we sincerely thank you. Your continued support of the website by your posts, birthday greetings, photos and messages has made us feel that the reunion more than met our wildest expectation. To continue with the giving spirit of our 1968 PHS class, our class will be making a $400 contribution to the Plainfield High School Student Assistance Fund..
We are mighty, we are great, we're the class of '68 !!!!
Charlie and Carol
July 26, 2014 - Dave Petty plays at Hubbard and Cravens at 49th and Pennsylvania today from 2 - 4p. He would love to see you at the coffee shop.
July 2014 - Check out the new photos that have been added to the Reunion Photos link on the Home Page. Great summer gatherings have happened for the classmates of PHS '68.
July 4, 2014 - Celebrating freedom, fireworks and our American flag with family and friends. Enjoy !!!!
June 24, 2014 - Plainfield made the National news with the touch down of a tornado near Perry Rd and US 40. No reports of personal injuries but property damage to several areas. Thankfully no loss of life.
June 2014 - Happy Father's Day to all men of the class of 1968. As fathers, uncles, brothers and grandfathers, your love and guidance is one of the greatest gifts to your family and friends. May we celebrate all the men in our lives who helped shape our soul and mentor our lives.
June 2014 - We received the following email from Justine Thompson, LCSW and PHS Student Assistance Counselor regarding our reunion donation to the school. Thanks to all of you, it looks like we had a reunion that keeps on giving.
Dear class of 1968,
With the ending of the school year approaching, I thought it was only fitting that I let you and your classmates know how we have spent your very generous donation of $2450 to the Student Assistance Fund. It has been so extremely helpful to us with the following items:
Medical appointments; Band fees: Choir fees: Art fees: Family Athletic pass for a large family that has multiple children in sports and could not afford the fee for events: Physical necessary for participation in sports: Field trip fees: On-line classes necessary for graduation: Winter coat and winter clothing: Eye glasses: Cap and gown for numerous students: Drivers education course for senior to assist in skills of independence: Textbooks for dual credit college course: Tutoring: DECCA trip: Prom ticket: Yearbook: School fees aside from what free and reduced lunch status covers.
Thank you again and thank you to all of those that donated. It has been so wonderful to be able to draw from these donations to help families in need.
Take good care,
Justine Thompson, LCSW
PHS Student Assistance Couselor
May 2014 - Hope your Memorial Day weekend is memorable. Whether it is watching a parade, listening to a race, spending time outdoors with the grill or on the water, we hope you have a great time with family and friends.
Also, Saturday, May 24th, Dave Petty will be playing at Hubbard and Cravens at 49th and Penn from 2 - 4p.
Rumor has it that Dale Young may be making a trip to Indy for his family reunion in September. His plans aren't final but once they are he'll let us know. I know several classmates are asking for another impromptu gathering and we'll see if a gathering can coincide with Dale's return.
Check out the Reunion Photos link for a new photo of Bob Cushman and Jerry Brown taken this weekend in Washington DC. What a wonderful Memorial Day coincidence, cause and photo !!!
May 2014 - Great time to honor and remember the Mother's of all of our classmates and the influence they had on our lives. Also, a Happy Mother's Day to all women of the class of 1968. To know and receive a Mother's, Aunt's, Grandmother's love is the greatest gift of all. God bless you all.
April 2014 - Hope everyone had a blessed Easter.
Has spring finally arrived?!?!? We are hoping that the sun continues to shine and thaw out all things that were frozen during the winter.
Check out some new photos in the Reunion Photos link as we are able to capture some mini mini reunions. What is so special is that Frank Litherland and Dave Laughlin were not able to attend the reunion but have sent us a photo of their recent gathering at the Litherland's home. Also, welcome to Loretta Burgess Thompson who joined our site. Please, everyone update their profile with any new and exciting adventures and also send us photos of classmate gatherings. We started this website on December 3, 2012 and to date, we have over 10K hits so we know that classmates are looking at the site, sending birthday greetings and keeping up with friends. Enjoy!!!!
March 29th entertainment - Dave Petty returns to Hubbard and Cravens at 49th and Pennsylvania from 2 - 4 for his monthly gig. Also, on April 26th he will be playing at the Stutz Building Gallery Walk from 2 - 7 on the 3rd floor.
Be sure and check out all the new profile updates and photos - Michelle Jones Boling, Ernie Ward (you gotta wear those green pants to the next reunion), Rhea Gentry Thompson, Linda Reeves Amick, Frank Heiliger, Kathy Robbins Arrington, Tom Johnson and Dee Bell Becker are just a few who have some updates to share. Also, check out the Reunion Photos link where a couple of new mini reunion photos have been posted when PHS grad gatherings have happened in Arizona, Florida and in Indianapolis.
March 19, 2014 Rhea Gentry Thompson updated her profile with the following news:
We bought a house the first of this year; so I guess we are staying for awhile. Matthew is now in California working for Clay Lacy Aviation. I absolutely love it; he's only 2 hours away.
March 15th - An impromptu mini mini flashmob reunion saw a lunch gathering of Frank Litherland, Rob Coulter and Dan Snyder.  Those men really really like to talk about cars.  Check out their photo in the Reunion Photos link.
February 22nd and 23rd weekend entertainment
Dave Petty performs at Hubbard and Cravens at 49th and Pennsylvania in Indianapolis on Saturday, February 22nd from 2p - 5p.  Also, the Indianapolis Boat, Sport and Travel Show runs through February 23rd where Eileen Leonard and Sailboats Inc have a great display of sailboats and fun runners.
Eileen talks cabin fever !!!
Indianapolis Boat, Sport and Travel Show runs from February 14th through February 23rd.  Eileen Leonard, co-owner of Sailboats Inc. will have a display of their watercraft and fun runners at the show.  She wants to make sure that anyone who attends the show stops by their display to say "hello".  Well at least we can dream about summer !!  Check out the website of Sailboats Inc at www.sailboatsindiana.com for more info about their products. 
Ernie Talks Super Bowl
I know there are probably a few Peyton Manning fans left hoping he leads the Broncos to a Super Bowl win. My family and I are in New York ready to scream our support for the Seahawks. Gonna be a great game, go Hawks.
ernie
January, 2014
Dear Class of '68,
What a gift to experience the 45th reunion. It might never have happened for me if not for Carol, Charlie, Ann Dohogne Jaimet and others yet to be revealed. I was honored to be a part of such a special occasion that included the healing of all past negatives from the grueling yet highly entertaining world of high school.
I feel that I have lived a million lives since then, but high school has a deep and appealing memory.
And now most of us are moving toward 64. It is unbelievable how time flies. Not once did it enter my imagination that I would actually get to this point upon hearing the Beatles tune When I'm 64.
For the past year and a half I have been working on what could end up being my final masterpiece or could be a step towards yet another, God willing. It will never be perfect and yet the whole process created such light and joy in the making that it feels quite powerful to me as a tool for altering attitude.
Silva - Bell - Elation by Dee Bell & Marcos Silva is now available on CD Baby, iTunes and Amazon. It is my happy thought and I have yet to find anyone who can sit still with a listening of it. So dancers beware! And if you are not a dancer, it will get you moving anyway. There are some ballads, including the Beatles tune I Will. You may remember that Kathy, Rachel and I performed Kathy's arrangement of this song at the reunion. This is not that lovely arrangement, but is equally enjoyable and now I think of you all and see your endearing faces every time I hear it. This CD allowed me to create some jazzy swing samba standards from songs from our generation, as well as re-imagine some from the 20s.
There are both digital and hard CD versions of the release available. The actual CD has liner notes that were written by a famous jazz biographer who lives in New York by the name of James Gavin. He has written about Chet Baker, Lena Horne and Peggy Lee to name a few.
I would like to share the joy and light that are in this CD with you all. If you are so inclined, it is now available, even prior to the actual street release date for radio.
CD Baby: http://www.cdbaby.com/cd/deebell2
If you should happen to buy the less expensive digital version, the liner notes can be found on my website at deebell.net/
Thanks for listening !!
Hope to see you all again in the near future.
Warmly,
Dee
January in Indiana -
This Indiana winter is not for wimps. A snowy, cold, brutal, winter wonderland or something like that. Hope everyone is safe and warm wherever you may live. One for the record books in Indiana with record breaking snow and cold temperatures. March 20th can't get here soon enough - first day of spring.
Check out new photos that have been posted in the Reunion Link. We have included the photos taken by Gerald Rose Jr and also photos of a recent gathering of PHS '68 grads who are living or wintering in Arizona. Also, we were able to add photos to the profiles of Debbie McCollum Asher and Linda Anderson Boughner. Congratulations to Frank Heiliger on his retirement !!!!
A New Year's Wish - May 2014 bring you good health, much happiness and all the love your hearts can hold. Happy New Year !!!!
A Christmas Wish - May Christmas inspire each of us to give a little of what we have, to share a little of who we are, to help make this the kind of world that it was meant to be. Merry Christmas to all !!!!
Wednesday, December 11th - Christmas holiday gathering was at Ann Dohogne Jaimet's house. A great GNO for Eileen Leonard, Jane Marshall Coe, Janet Krampe Grube, Linda Walton Ellis, Marla Chestnut Riddle, Georgie Harrington Vinson.
Where can you get a $5 keepsake of the reunion, hear the Sound Relation band and enjoy the dancing at the reunion? Just contact Allan Knoll and he'll mail a video to you. Great fun, memories and good times.
Saturday, December 7th - Back from his vacation in Hawaii, Dave Petty returned to Hubbard and Cravens at 49th and Penn in Indianapolis to share his music with those who stopped for a cup of coffee or a latte.
Friday, December 6th - Several classmates gathered at Panera in Plainfield for breakfast. Great to see Susie, Rachel, Allan, Charlie and Linda Anderson Boughner with her husband, Ron. Photos posted at the Reunion Photos link.
Thanksgiving day - As we make our list of things we are thankful for, one of the biggest blessings has been the opportunity to reconnect with many friends through this website. Blessings to each and everyone.
November 22, 1963 - Do you remember where you were on this date??
We thank all classmates who served our country and their sons, daughters and grandchildren who have continued to fight for our freedoms.
On Tuesday, October 29th, six girls gathered to catch up on life since the reunion and talk about the fun we shared with everyone. Our GNO was made of up Chris Gentry, Eileen Leonard, Ann Dohogue Jaimet, Janet Krampe Grube and Jane Marshall Coe. We all agree that 5 years is too long to wait for another class reunion.
On Saturday, September 28th, six of us continued the conversations and reconnections when we met at Rick's Cafe Boatyard at Eagle Creek for dinner. Enjoying the beautiful evening was Jane Marshall Coe, Roland Schinbeckler, Dave Petty and Dan and Carol Snyder.
We're still reliving our reunion weekend and the fun we had !!! The party is over but the memories will live on forever. Thanks to Allan Knoll, we have our first video posted on the website. Check out his profile to see/hear Sound Relation and all the dancers who took the floor. We all agree it was a wonderful evening of songs and smiles, laughter and love, dancing and door prizes. After watching the video, I'm sure you will agree.
Thanks to the SIXTY-EIGHT classmates/teachers and the 40 guests who partied like it was 1968. With entertainers, Dave Petty, Kathy Robbins Arrington, Roland Schinbeckler, Rachel Maxwell Johnson, Dee Bell Becker, Allan Knoll, Raymond Veith, Tom Johnson, Tom Dick, Jim Pierson, Scott Wilcox and Tim Hayden setting the tone on the stage we knew something special was about to happen. Have you ever seen such talent??? Remember the last time they performed was in a high school gym some 45 years ago. Are we blessed or what ?!?!?!?
And then it was time for the classmates to hit the floor. Linda Hayden Schockley was the first one on the floor in her bobby socks?? She was followed closely by Marsha Haworth Benson. Jeff Jenkel couldn't stay in his seat so he led the guys in some fine moves. Gerald Rose Junior was having some fun on the dance floor, too. Did anyone see the father/daughter twist moves that were displayed by Bill Smith and his daughter Amelia?? And we even had some party crashers who came to enjoy the band and join in the fun. They even made a contribution to our donation fund. The "crashers with a cause" can show up anytime. Lucky Roland Schinbeckler won the 50/50 raffle and graciously donated it back to our school donation fund. What a classy guy !!! We even got to sing "Happy Birthday to Roland's Mom, Mrs. Schinbeckler" who turns 90 next week and who came to enjoy the show. That smile on Ernie Ward's face is just contagious. What a great guy. OK, we had guests from 15 to 90. A multi-generational gathering of family and friends. What could be better !!!???.
So here is what might be a little better and added another special touch to our gala, the teachers. Tom Loyal came all the way from Georgia and was at every gathering we had planned and even planned one of his own on Monday. Ron Reichel, Ken Bishop, Rosemary Rodarmel and Gene Combs were all there to reconnect with each other and our classmates. Also, Phil Webster, the teacher who led the polling for favorite teacher even made it to the gathering !!! A special appearance by Rosemary McCart was an added delight. We were honored to have them attend.
The photo CD has been mailed to all who attended the reunion. All reunion photos from several classmates as well as the official reunion photos are now posted in the Reunion Photos link. We now have links for the heartfelt opening remarks made by Charlie, the 'thank you' letter sent by PHS for our donation and the lyrics written by Kathy Robbins Arrington for the performance of "Sixty Going on Seventy".
From the bottom of our hearts, we thank you for making this reunion special by your attendance, time, talent, donations and love. Happy trails to you until we meet again. Just always remember, we are might, we are great, we're the class of '68 !!!!
And for all of those classmates who couldn't make it to the 45th, we're hoping you don't miss the 47 1/2 year reunion. We can't wait to see everyone again.
Carol and Charlie
As of today, we have 109 classmates and 6 teachers who have joined our website.
.
Welcome to the Plainfield High Class Of 1968 web site. Add any additional home page content here...