Strides to Success story
December 19, 2019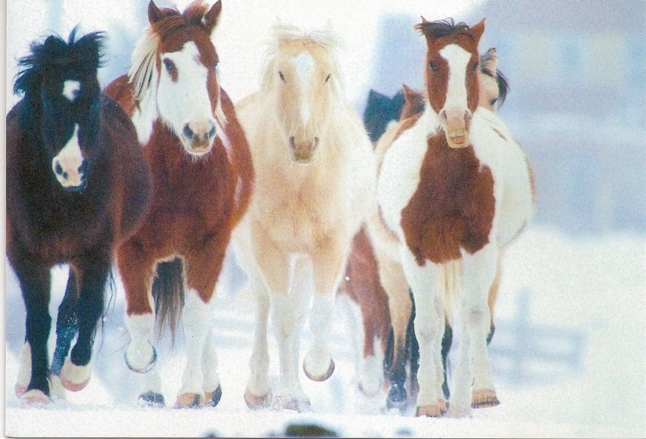 The ponies and Sparkplug wanted to wish you a wonderful holiday season with friends by your side and joy in your heart. They really enjoyed meeting you in September at the reunion.
We have been busy this year at Strides. Our programs have grown along with some new opportunities. As a result, we have seen lives transformed in amazing ways. Our assignments have included 67 child victims of sex trafficking, 62 children that have suffered abuse or trauma, 42 Veterans with PTSD, 17 women that have been sexually assaulted, facilitated 72 groups and offered 7 training workshops with the help of many dedicated volunteers. We hosted our first annual Trot n Treat at Halloween and you helped make our Christmas with the Ponies a wonderful success for over 700 visitors with the cookies you donated.
Beyond the numbers, we have been blessed in ways that defy description. Since we don't advertise our services, we believe that all that comes to Strides is sent from God himself.
Christmas blessings to you and your families,
Debbie and John
December 2, 2018
Thanks to all bakers who can donate dozens of cookies to the barn by Wednesday, December 5th.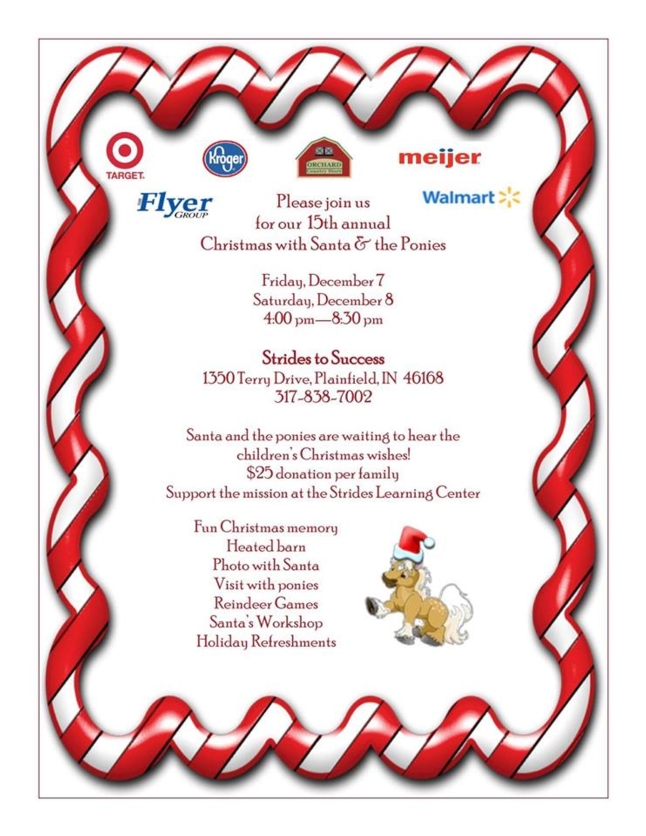 October 20, 2018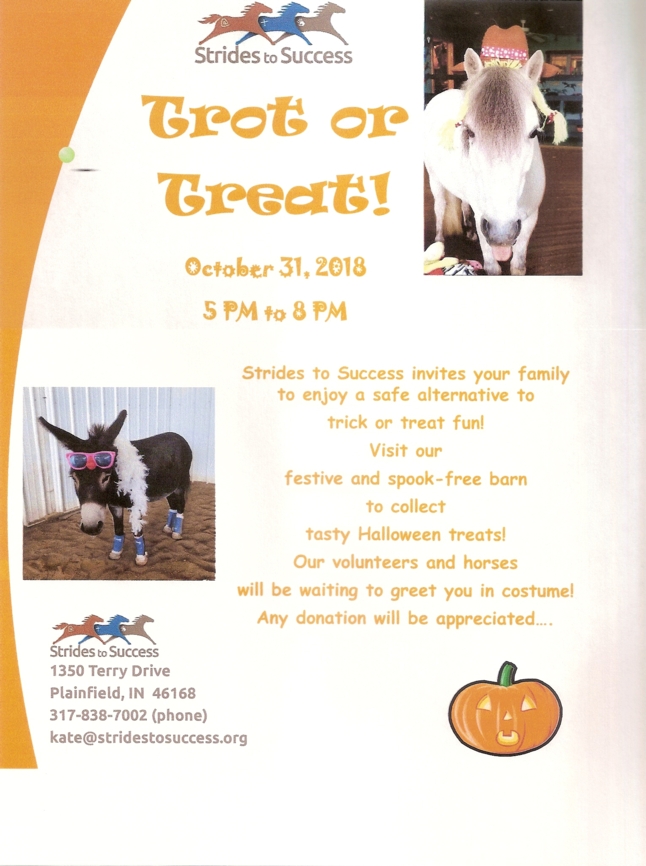 October 5, 2018
After our 50th reunion expenses were paid, the class of 1968 made a $3000 donation to Strides. All 71 classmates including teachers, who registered for the reunion are donors. Also, included with these donations are personal donations by our DJ, Brittany Hope who donated her fees to both Strides/SAF: our photographer, Lisa Stewart who donated her fees to Strides: Stanley Walton who donated his raffle winnings to be split between Strides/SAF: Debbie McCollum Asher (couldn't attend due to illness) and split her registration fee between Strides/SAF: Raymond Veith (couldn't attend) and split his registration fee between Strides/SAF: Gregg Rogers (Cindy's registration fee): the personal gift from the class to Carol Wendt who split the money between Strides/SAF: John Hall's personal donation. Ann Dohogne Jaimet who had registered for the reunion and had asked Carol to use her registration fee to help Strides/SAF in the event she couldn't attend the reunion. We were blessed to be hosted by Debbie and John Anderson. Strides provided us with the perfect place to meet old friends, make new friends out of old acquaintances and have a chance to relive, relax and remember. Thanks to them for making our 50th reunion special.
July 28, 2018 Horse Whisperers was a feature in the Hendricks County Flyer. Check out at www.flyergroup.com. (article below but photos can only be seen through link)

TOPICALFEATURED
Horse whisperers
Strides to Success uses equine therapy to teach life lessons
BY JAMES VAUGHN james.vaughn@flyergroup.com Jul 27, 2018 Updated Jul 27, 2018  
     
PLAINFIELD — Memphis Beatty has a hard time putting into words what Rocky has done for him.

A year ago, the 16-year-old Clayton teenager lacked social skills and struggled with anger 
management. It was hard for him to talk to most people, and he often lashed out at 
the ones he did talk to.

Then he met Rocky, a horse at Strides to Success, an equine therapy farm in Plainfield.

The non-profit's mission is to provide individualized therapeutic experiences that promote 
learning opportunities and strengthen lives. It was brought to the 34-acre family 
farm in 2006.

Memphis is just one of many success stories.

Strides helps people of all ages, from children who are bullied to veterans 
suffering from PTSD. Instead of offering specific programs, they are open to
 whatever their clients need.

"There are a lot of things the community brings to us that we just figure out a
way to utilize our farm environment and our horses to help them find the 
answers to their challenges," said Debbie Anderson, who runs the farm.

For Memphis, it was all about building a relationship with Rocky.

"When I first came here, I had never even ridden a horse and I definitely didn't know how to
tie a rope halter or anything like that," Memphis said Thursday as he petted 
Rocky's neck. "But now that I'm really learning how to build a relationship 
with these horses, I am able to do something as simple as tying the halter, 
but I can also get them to jump over beams and stuff.

"It's not just about finding myself in the horse. It's about building an 
authentic relationship with the horse and in doing so, I have had a 
transformation."

He said he is more confident in himself and doesn't get angry anymore.

It's common to see that kind of transformation in people after they work with
the horses for awhile, Anderson said.

They use a method known as natural horsemanship which, in essence, means allowing
the horse to make its own decisions while encouraging it to do certain things, 
like jump a beam or kick a ball. The goal is for neither the human nor the horse 
to become impatient or frustrated.

"It's kind of like horse whispering," Anderson said. "The horses have their 
own language and it's based on building trust and confidence, and deciding 
between the horse and the person who is going to be in charge."

Trust, honesty and patience are some of the biggest life lessons they teach 
at the farm. And it works both ways — the clients and horses learn from 
one another.

"It's about all of those wonderful rich components that make life doable 
and more importantly pleasant," she said.

Strides to Success helps about 60 people a week. The ranch offer Kindness, 
Integrity and Discipline (KID) coaching; leadership development training; 
Veterans Equine Transition Services (VETS); Spirit Rising; Pink Ponies for 
women who struggle with low self-esteem; mental health counseling; and even 
horse yoga. They are the only farm in the Midwest to offer mounted yoga.

All 13 horses were donated to the farm, which operates as a 501(c)3 non-profit,
meaning they don't charge for most of their services.

"People call up here all the time because they'd like to donate their horses 
to a forever home, especially doing this kind of good work," Anderson said. 
"But unfortunately, we can't take them all."

Several mental health therapists work out of the farm's offices. Their 
private practices are based there. Strides itself just has two full-time 
staff members, including Anderson.

Sometimes it is more about the farm's atmosphere than it is the horses. 
The animals aren't always needed for healing, she said. Some experience it 
just coming up the driveway.

"You come through a residential neighborhood and then boom; all of a sudden 
you're at a farm. So a lot of people, when they come through the front gates, 
find peace immediately. Others want to connect with nature, something we don't 
do very often these days," she said. "Even though we're right in the middle of 
this city, people find peace here."

Memphis did.

His father, Gary Beatty, watches in amazement each week at how gentle Memphis 
is with Rocky.

"It's unbelievable," Gary said. "It has changed his whole attitude."

He had some reservations about it at first, he said, but he has really taken 
to the horses.


Memphis is more patient at home too, Gary said, and he thinks everything 
through instead of instantly getting angry about things that may be out of 
his control.

The best part for Memphis and his father is that there is no time stamp on 
when he has to be done with the therapy, which was recommended to them by a 
traditional counselor.

"It's up to him, really," Gary said. "Whenever he feels like he's gotten all 
he can out of it."

It may be a while. Memphis just started a youth training internship at the farm. 
He hopes to help people the way the trainers and horses have helped him.

They kept him going, and because of that he found healing, he said.

"A lot of thought went into, you know, how can I top what I did in last week's 
session? How can I keep improving? And it really is all about just building 
that relationship," Memphis said. "Because of the horses, I am a better person."

James Vaughn writes for the Hendricks County Flyer. 
Reach him at james.vaughn@flyergroup.com. Follow him on Twitter 
at @JamesRLVaughn.

Strides to Success

1350 Terry Drive

Plainfield, IN 46168

317-838-7002

www.stridestosuccess.org
January 2018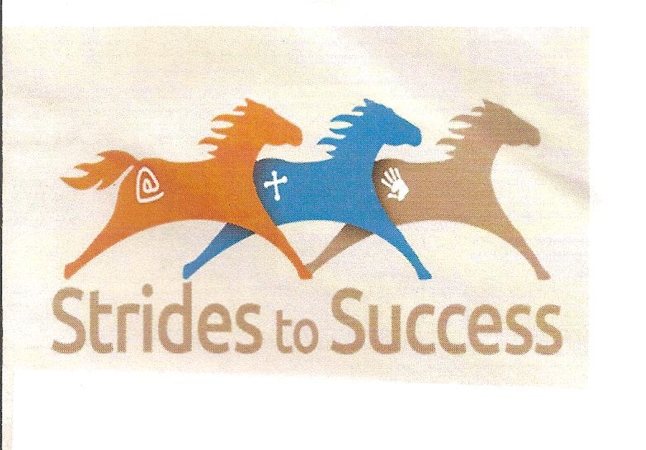 Our 50th reunion site is the home of Strides to Success which is owned and managed by Debbie and John Anderson. Although not a banquet facility, they have graciously offered it to us for our September 29th gala. Their most generous offer to use their barn and arena, at no charge, cannot go unnoticed. Therefore, we will be donating a portion of our $50/person ticket cost to the Strides mission. We can't thank them enough for hosting our evening and providing us the chance to reconnect with classmates across the years and miles.
Below is a little more about the Strides story…..
The Strides to Success mission is to provide unique equine experiences that promote learning opportunities which strengthen and develop lives. Strides combines a research based learning model with metaphoric experiences that encourage personal growth and development in both adults and youth.
Throughout 2017, they offered programs at the highest standard and have grown while embracing new opportunities. As a result, they have seen lives transformed in amazing ways. Over the first nine months of 2017, they had served 64 child victims of sex trafficking, 52 children that have suffered abuse or trauma, 82 veterans with PTSD, 17 women that have been sexually assaulted, facilitated 72 groups and offered 7 training workshops with the help of many dedicated volunteers. They continue to find ways to offer peace to those who cannot find it otherwise.
Their well-maintained facility, a healthy herd of horses, well-trained and skilled staff, and in many cases financial support to help those who are unable to manage the full cost of their services is supported through donations. Every gift they receive is used to care for their resident horses, expand their programming and support those who fall below the ability to afford the full cost of something that can and will transform their lives.
Please visit their website at www.stridestosuccess.org. Strides to Success is located at 1350 Terry Drive Plainfield, IN 46168, 317-838-7002.
Also, classmates have asked if there was an opportunity to donate outside of the reunion ticket. For anyone who feels touched to do so, you can make a check out to Strides to Success and send it c/o of Debbie Anderson at the address above. Please note PHS '68 on the memo line. I know they will be thankful for any and all donations they receive. Please do not include any additional donation with your reunion registration as the processing fees would diminish your actual donation.
We are planning September 29th to be an evening of fun, games, music, memories and sparkle for you and your guest. We look forward to seeing you there. The reunion registration will be open soon.